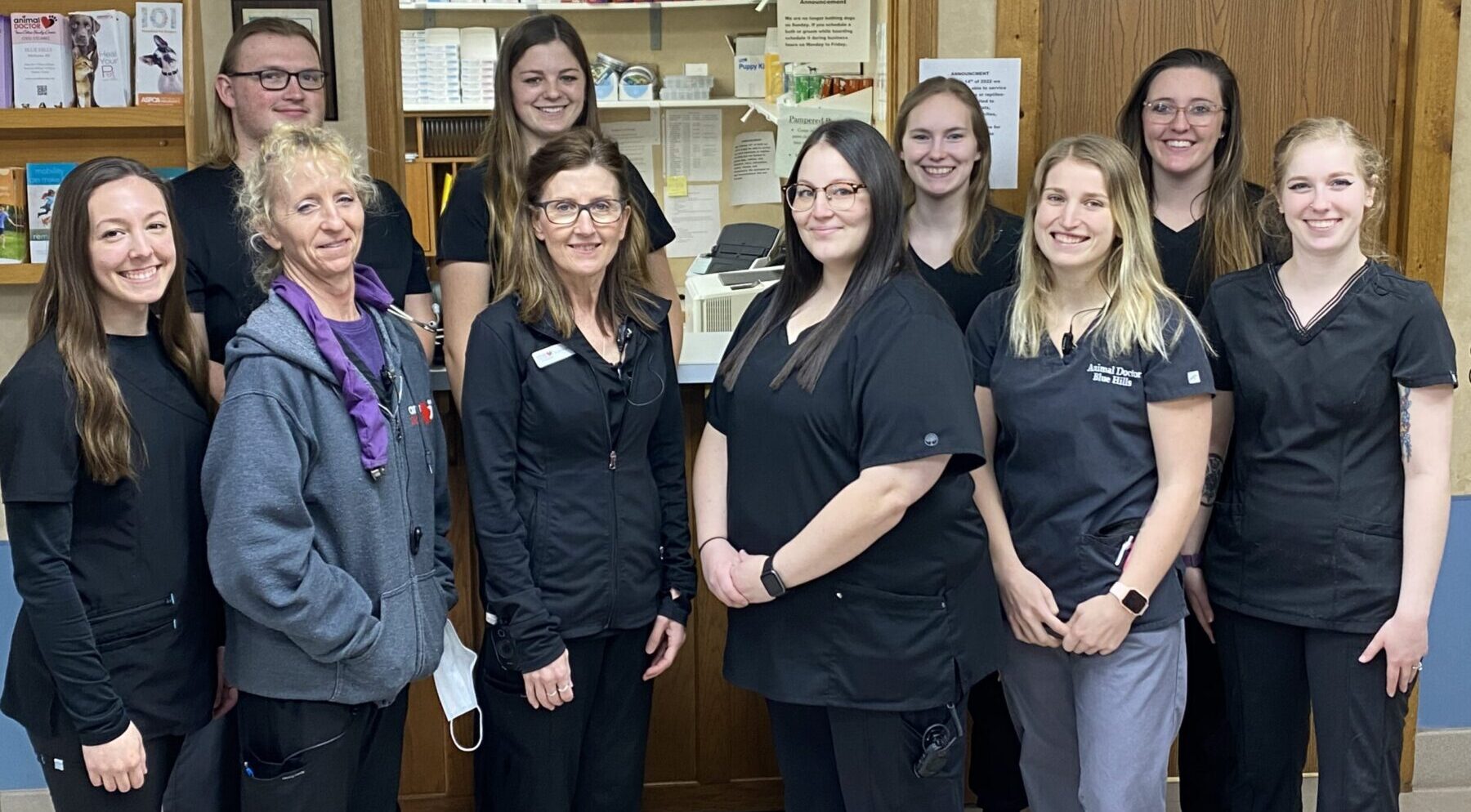 Our Animal Doctor Blue Hills Team
---
Lauren, Veterinary Technician
Lauren was born and raised in Concordia, Kansas. She graduated from Colby Community College in 2021 with a degree in Veterinary Nursing and is currently enrolled at Kansas State University in the Pre-Veterinary Program. In her free time Lauren enjoys riding horses and traveling.
Allison, Professional Groomer
Allison was born and raised in Manhattan, KS and lived her her entire life. Allison has 2 dogs and 3 cats that she enjoys spending her time with. She has a love for grooming animals and can't wait to provide a caring and compassionate groom to everyones pets!
Sydney, Veterinary Assistant
Sydney is originally from Alma, KS and came here in order to attend Kansas State University for Animal Science with the hope of getting into the K-state Veterinary program after graduating. She has always known she wanted to work with animals and is excited to be working in a veterinary clinic. In her spare time Sydney enjoys spending time with her family and friends and her 2 dogs Aries and Cocoa.
Avery, Veterinary Assistant
Avery is from Westminster, Maryland and is a sophomore at Kansas State University and is planning to attend vet school to become a mixed practice vet after graduation., Avery has a long history in interacting with animals as she has been showing cattle since the age of nine along with having a multitude of pets.
Ashley, Veterinary Assistant
Ashley was born and raise in Cheyenne Wells, Colorado. She grew up on a farm so she has always had a passion for working with animals. Ashley graduated in 2017 with a degree in Animal Science from Oklahoma Panhandle State University. In her free time she enjoys hanging out with friends, baking, and working with her dad and brother on the farm. Ashley plans to stay in the veterinarian field and hopes to go to vet school in the future.
Tristan, Veterinary Assistant
Tristan is from Marion, Kansas and is currently attending Kansas State University pursuing an Animal Science/Pre Veterinary degree. Tristan plans to apply to vet school after graduating. In her free time Tristan enjoys horseback riding, sleeping, and spending time with friends and family. Tristan also has a dog and two cats at home along with her Fiancé.
Walker, Veterinary Assistant
Walker is a Senior at Kansas State University studying microbiology. Originally Walker is from Southwest Colorado and has had an interest in Veterinary medicine his entire life. In his free time Walker enjoys fishing, reading, and watching football. In addition Walker is a proud member of the K-State University Marching Band.
Paola is originally from California and has only recently moved here to join at Animal Doctor Blue Hills. She enjoys going hiking and going out dancing whenever she can. Paola's passion is in helping take care of peoples pets.