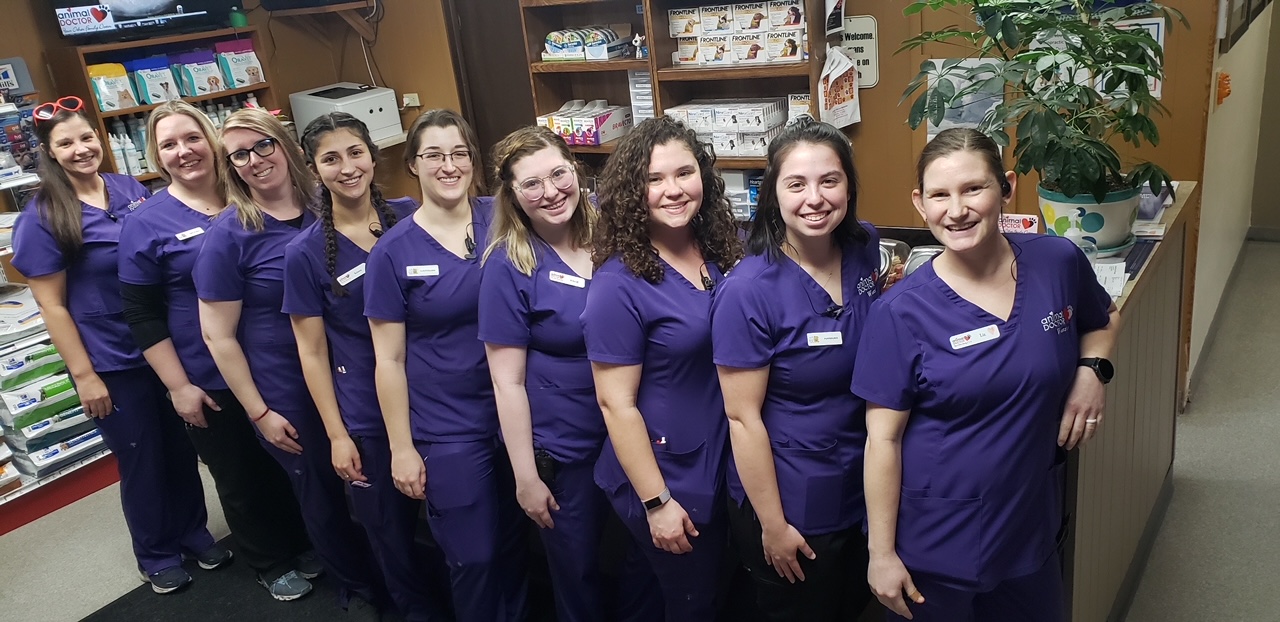 Our Animal Doctor Westside Team
---
Elizabeth, Office Manager/Veterinary Technician
Elizabeth has been with us since September of 2013. She graduated from Kansas State University with a bachelor's in Animal Science with a Pre-Vet option in 2012. She will more than likely be the face you see when you walk in the door. Elizabeth adores getting to know the clients and their fur babies! When not at work she enjoys gardening, landscaping, fishing, and working on her 20 acre farm. Elizabeth and her husband are enjoying their new house with their dog Bruiser, cats Peter and Mama, and horse Red.
Elizabeth, Veterinary Technician
Liz is from Elgin, Illnois and is a Fear Free Certified Veterinary Technician. She has her Bachelors in Psychology and a minor in Animal Science from Arkansas State University. She is currently working on becoming a licensed veterinary technician. She has two dogs, Cooper the cocker spaniel and Luna the boxer. Liz enjoys spending her free time taking her daughters Elsie and Penelope to the park, doing home projects with her husband Dan or just hanging out on the couch watching a good movie.
Kristen, Veterinary Assistant
Kristen is originally from Ness City, KS. She is currently a student in Colby Community College's Distance Learning Veterinary Nursing Program and plans to graduate spring of 2021. After graduation she hopes to become a registered veterinary technician. Her favorite aspect of veterinary medicine is patient care. During her spare time she enjoys being outdoors and spending time with her dog Hershey and her cat Oscar.
Kim, Veterinary Assistant
Kim is a Fear Free Certified Veterinary Assistant. Originally from Canton, OH, she has now lived in 5 different states and South Korea. With a Bachelor's in Hospitality Management, Kim brings her customer service expertise to both two-legged and four-legged clients alike! She found a passion with animals after adopting Dutch (fluffy shepherd mix) and furthered that passion after rescuing Gunner (Heinz 57). Her road to the veterinary world was a bit unconventional: restaurants, casino, boarding kennels, but as long as she gets to work with animals, Kim is in her happy place. In her spare time, she loves spending time with her husband, Thomas, as well as traveling, cooking/baking, and working out, so she is able to enjoy all the tasty treats!
Adelyn, Veterinary Assistant
Adelyn is originally from "The Great State of Texas." She has moved up here in order to attend Kansas State University where she graduated with a Bachelors of Animal Science in 2021. Adelyn is currently pursuing her either her Masters in Animal Nutrition or a DVM to work with large and small animals. Adelyn enjoys doing agility and frisbee with her dog Shiner, working out, fishing, hiking, and enjoying time with friends.
Carrigan, Veterinary Assistant
Carrigan has always loved animals and while getting her Bachelors of Science in Athletic Training at Washburn University where she started volunteering at the local humane society. There she fell in love with animal welfare and has spent the last 7 years working in animal shelters, where she adopted her Boxer/Beagle mix Harper, and cats Ryker and Ravyn. She recently decided to look into more of the medical side of animal welfare and ended up at ADW to continue gaining knowledge and skills in the practice of animal welfare. In her free time Carrigan enjoys crafts of all kinds, enjoying a warm day in a hammock with a good book, and just spending time with her family and pets.
Hannah, Veterinary Assistant
Hannah is originally from Columbus, GA! She is currently in Purdue's Vet Nursing distance learning program with the hopes of becoming a registered veterinary technician. She has two animals, a pit mix, Bandit, and an orange tabby, Bowie! In her free time, she likes to go on hikes with her husband and dog, Bandit! She also enjoys wedding photography on the side as well.
Brooke, Veterinary Assistant
Brooke is a Fear Free Certified Veterinary assistant originally from Lincoln, NE. She's currently enrolled at Penn Foster to become a licensed veterinary technician. Brooke has spent the last 14 years traveling the US with her military husband and their son. She started working with animals in 2007 and has enjoyed the growing world of veterinary medicine and all there is to learn. She currently has a beagle named Thor and two cats Mo and KitKat. When she's not at work, she enjoys spending time with her family watching movies, bowling and reading.