* Available ONLY at Junction City location and at Blue Hills Location
Grooming is an essential part of your pet's overall healthcare plan. That's why at Animal Doctor, we offer professional dog and cat grooming services to keep your pet looking and feeling good. Our professional groomer focuses on providing compassionate and quality care to your pet to ensure your pet is comfortable. Our professional grooming is convenient and works with our clients' schedules.
Clients drop their pet off at 7:30am and can pick their pet up upon receiving a call, or by 5:30pm on Monday-Friday.
Our facility uses high-quality shampoo to protect your pet's coat, while also tailoring to your pet's specific needs. Each grooming appointment includes a bath, brush-out, ear cleaning, anal sac expression, nail trim, cologne, and a bandana. While receiving care, our professional groomer will alert the doctor if any abnormalities are found. Your pet's health and safety are priority to us.
Pets who visit us for routine grooming (every 4-6 weeks) will receive a 15% discount off future grooms!
Dog and Cat Grooming Services:
We have a floor-level stand-up bathing station ideal for large breeds, dogs with joint problems, and dogs with a fear of confined spaces. For no extra charge, we use the Furminator to remove dead hair from the undercoat and decrease shedding. We also offer a soothing oatmeal and medicated bath for dogs with skin problems.
Our services include:
Bath
Brush-out
Trim-up of head, feet, and bottom
Coat clipping
Ear cleaning
Anal sac expression
Nail trim
Cologne (optional)
Bandana
To help our pets to stay healthy, we have requirements to receive grooming services at our facilities. If these requirements were performed by another veterinarian, we will need records for review.
All dogs must be up-to-date on:
Rabies Vaccination
6-month Bordetella
Distemper Parvo Vaccination
All cats must be up-to-date on:
Rabies Vaccination
Feline Distemper Vaccination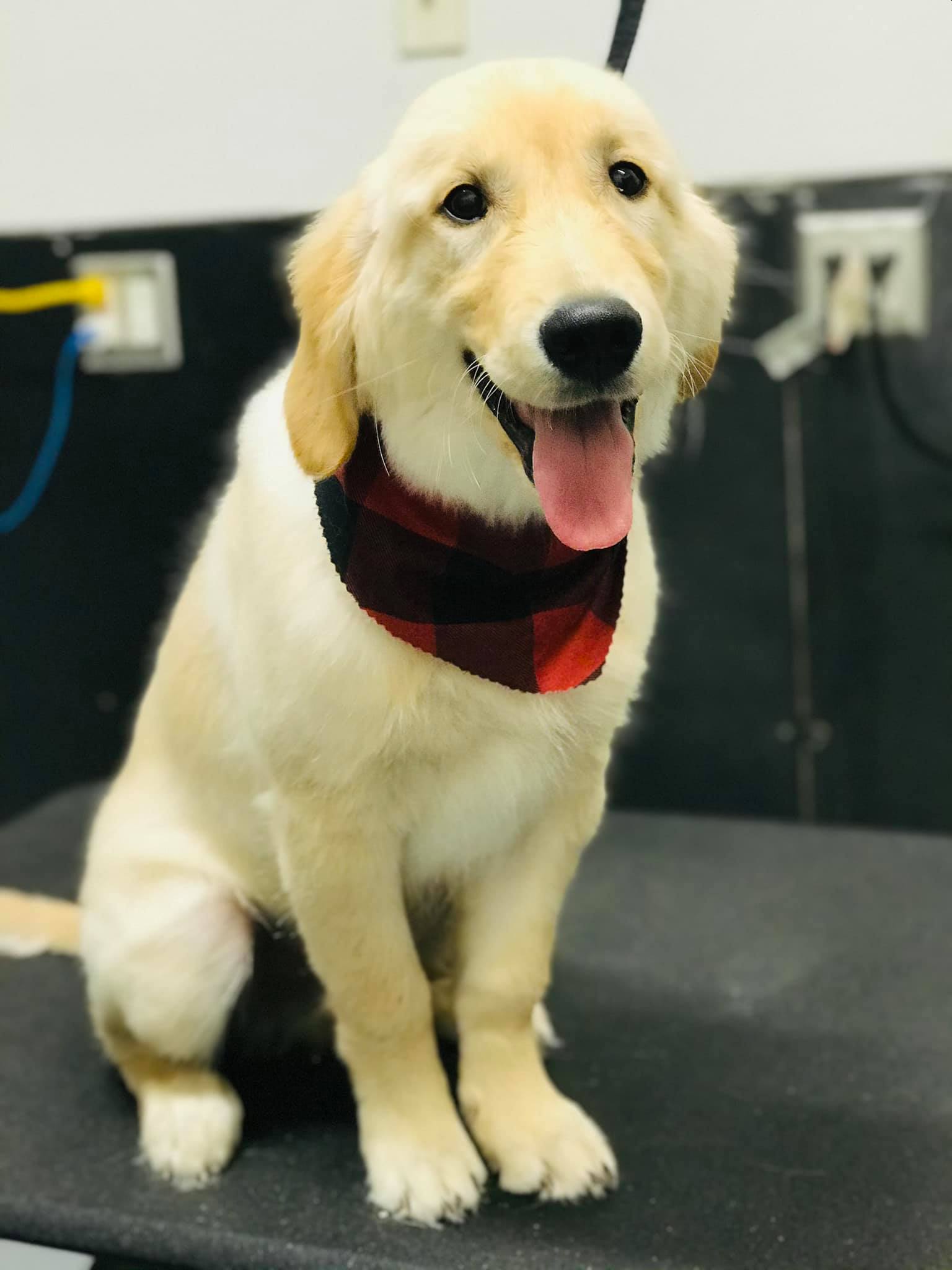 Brought my dog in for grooming. The groomer did a fantastic job!!!! My fur-baby was very handsome again. It would be great to meet the groomer so I know who is with my dog. And let them know personally how well they did.

- Sue
"We adopted a Standard Poodle by the name of Stella from Dr. Arneson. And you know as well as I do, poodles have to be groomed every six to eight weeks. We did not live in Junction City, so we tried another groomer for our poodle and we were very disappointed. We started to make the drive and bring her to the grooming team at Animal Doctor. She is always so happy and excited to see them; they treat her like their own, she smells wonderful, and her cut always looks amazing! When we take her home, she is so happy. They do such a wonderful job and I can tell you that my experience at Animal Doctor has been nothing but above and beyond! I couldn't thank them enough for doing such a great job! Thank you girls!"

- Tonya Fisher and Stella, 3 years old Standard Poodle