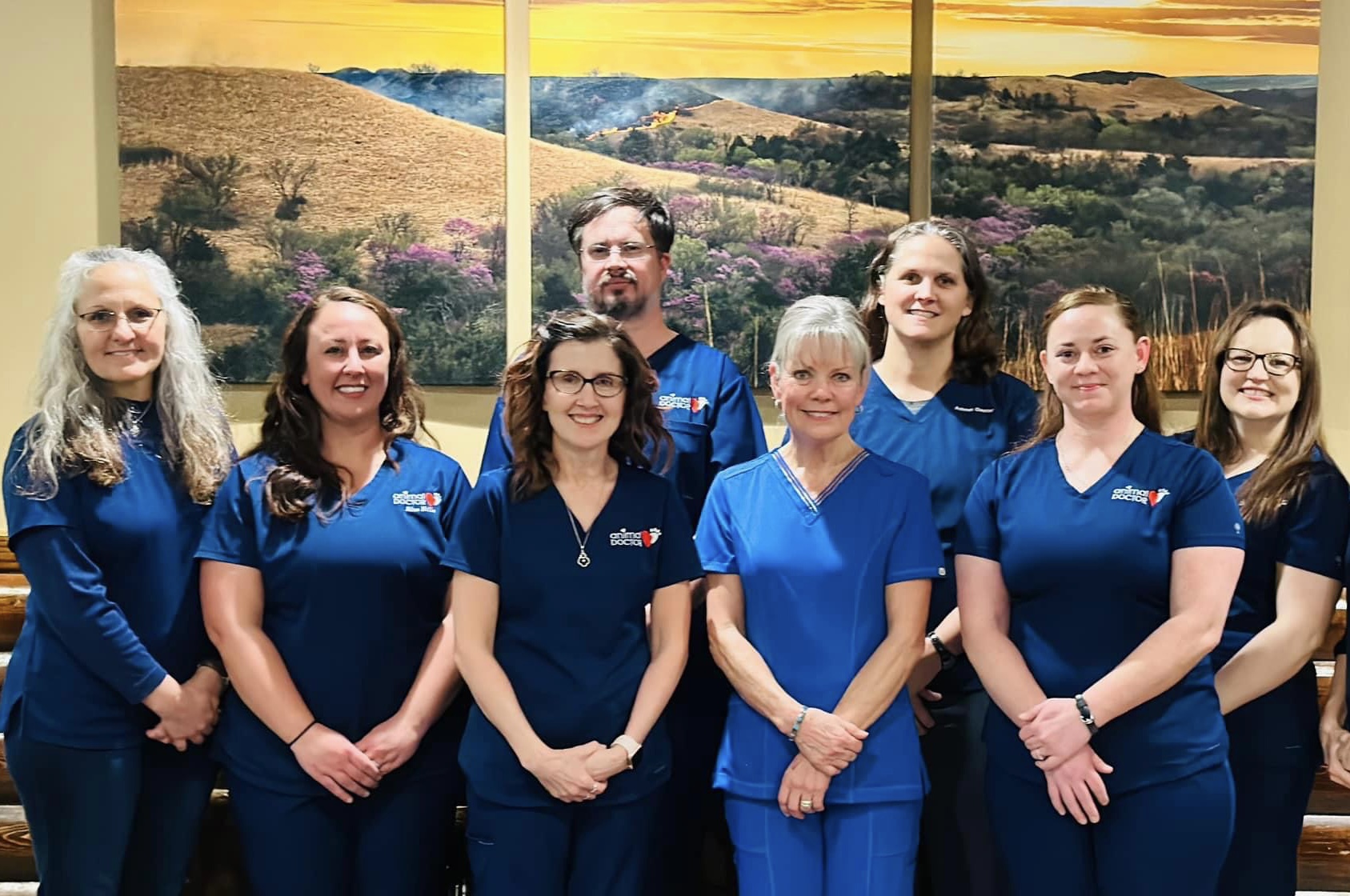 Our Team of Veterinarians
---
Dr. Jennifer Arneson grew up in Lincoln, NE, receiving her Bachelor of Science degree from the University of Nebraska, Lincoln in 1992, and her Doctor of Veterinary Medicine degree from Kansas State University in 1997. Dr. Arneson started Animal Doctor Veterinary Clinic in 1998, Animal Doctor Westside in Manhattan, KS (with Dr. Michelle Iseman) in 2017, and Animal Doctor Blue Hills in Manhattan, KS in 2019. Dr. Arneson's husband, Ty, oversees the day to day operations of all three veterinary clinics. Dr. Arneson and her husband have two children, Nick and Beth, and two dogs, Elly and Alice. Dr. Arneson's areas of interest include geriatric care, dermatology, and internal medicine.
Dr. Iseman is a Fear Free Certified Veterinarian. She is a Kansas native and attended Kansas State University. She received her Bachelors degree in Animal Sciences in 2002, DVM degree in 2004, and Masters degree in Clinical Sciences in 2005. After beginning her career in a mixed animal practice in Texas, she moved back to Manhattan and has lived and worked there in small animal practice since 2005 with her husband John Stamey, her 3 children: Alec, Corabelle, and Iris; their 2 dogs: Eva and Hagrid; and 2 cats: Pegleg Pete and Frankie. When she's not busy working as a veterinarian, she's either chasing her kids, helping her husband with his remodeling and construction business, doing a project around the house and yard, out walking the dog, or on a hike somewhere out in the prairie or mountains. Dr. Iseman's special interests include preventative medicine, client education, dentistry, geriatric care, behavior, & fear free practice.
Dr. Alice Waters is originally from Lebanon Junction, KY. She attended undergrad at the University of Kentucky and the University of Louisville. She obtained her Doctor of Veterinary Medicine degree from Auburn University College of Veterinary Medicine in 1999. She has called Manhattan home since 2006. Dr. Waters and her dog, Sage, joined the Animal Doctor family on May 1, 2019. You can find Dr. Waters at our location in Manhattan: Animal Doctor Westside! We are excited to have her as part of our team.
Dr. Billie Deam is a Fear Free Certified Professional who was born and raised in Manhattan, KS. She is a graduate of Kansas State University with a BS in Biology (1972) and DVM (1980). She owned and operated The Animal Clinic of Boardwalk Square in Kansas City, MO until 2013 when she and her husband, Stan Cook, returned to her family farm in Manhattan. Dr. Deam enjoys trail riding her two horses, Playboy and Red, and also hiking and quail-hunting with her English Pointer, Indy. She and her husband are restoring her family home, a 160-year old stone stagecoach stop south of Manhattan. Dr. Deam enjoys all aspects of small animal medicine and surgery, particularly mobility issues which led her to get her degree in Animal Chiropractic from Options of Animals in Wellsville, KS.
Dr. Leigh Wacker is from Brewster, Nebraska and attended Kansas State University. She received her Bachelor's degree in Animal Science in 2012 and her DVM degree in 2016. During school she fell in love with the area and decided to start her career in Manhattan and Junction City. Dr. Wacker and her fiancé Brady James recently moved to a family ranch in Abilene. Along for the ride are 2 French bulldogs: Trixie and Maggie, her farm cats and 4 horses: Sugarplum, Dolly, Lil Joe and Trouble. When she's not busy working as a veterinarian she enjoys being outside and helping around the ranch. Dr. Wacker's special interests include dermatology, dentistry and reproduction.
Dr. Versch grew up in the suburbs of Cincinnati, OH. After observing her first cat spay at age six she knew she wanted to become a veterinarian. Upon graduating from Ohio State University with an undergraduate degree in Animal Science and Business she came Manhattan, KS for Vet School. During her time at K-State she fell in love with the community and decided to settle down here with her family. She and her boyfriend, Jordan, just had a son, Phoenix, in July 2021 to add another member to their already full house of two huskies and two cats. Dr. Versch's favorite part of veterinary medicine is helping foster the human-animal bond because she knows how quickly our furry friends become vital family members.
Dr. Klosterman is originally an Ohio native. He received a degree in biochemistry from Warren Wilson College in North Carolina. Eventually, finding his way to Michigan State, he graduated with his D.V.M in 2010. He married his wife, an Army Veterinarian, shortly after graduation and moved as deployments came. Over the last 12 years, he has practiced all over the south and even two years in Korea. He has a full house of 2 children, 5 cats, and 2 dogs. He likes being outdoors: finding new hiking trails and sailing. His medical interests are broad, but include internal medicine, C-sections, and soft tissue surgery.
Dr. Fountain is from central Missouri where she grew up on a cattle operation. She graduated from K-State in 2014 with a Bachelors of Animal Sciences and Industry. In 2020, she graduated from the Kansas State University College of Veterinary Medicine, and completed her masters degree in Veterinary Biomedical Sciences. She and her husband live near Randolph with their four dogs, six cats, and a heard of mostly Charolais cattle. Dr. Fountain enjoys preventative medicine, client education, and internal medicine